PICTURE 8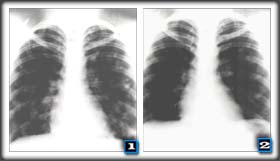 Multiple bilateral lung metastasis from a mammary gland adenocarcinoma before (1) and after (2) three months of neuroimmunological therapy.
PICTURE 9




Ulcerated breast cancer before and after immunological treatment with psycoactive drugs. Neuroimmunologic and CTR profiles also became normal and paralleled clinical improvement.
PICTURE 10




Bladder adenocarcinoma before and after two months of immunological therapy.

Page 2 of 3
next page /
previous page